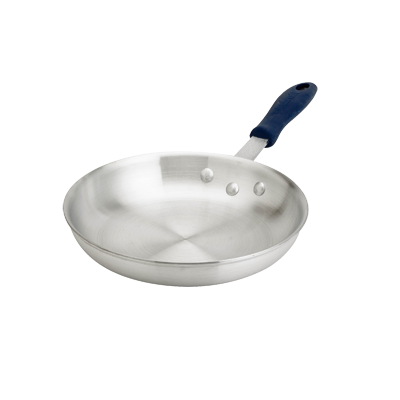 Thermalloy® Aluminum Fry Pan 14" - 5813814
SKU: 101616 |
Please note that when ordering from Newfoundland, items shipped from Nova Scotia may take an extra 7-10 business days to arrive.
Description
Specs
Additional Info
Description
Manufacturer Number: 5813814
Award Winning Thermalloy® Professional Cookware has many built in design features to offer outstanding performance, ease of use and added durability
The Thermalloy® fry pan's handle is attached with rivets to help support the handle. Since the rivets are offset, they reduce the strain on each other to add strength to the attachment. The handle is angled for comfort and includes a removable, heat-resistant sleeve to prevent hands from getting tired. The wide base sits on flat burners and eliminates hot and cold spots. The aluminum construction provides even heating across the bottom. With the aluminum construction, the Thermalloy fry pan can be used in commercial settings.
Operates with gas/electric/ceramic/halogen
Size: 14" diam. x 2-1/2"H
Handle: handle with off-set rivets
Ergonomic removable blue silicone heat resistant sleeve (to 572°F)
Material: standard weight, 8 gauge, aluminum, natural finish
NSF
Sold by: Each
Specs
No additional specifications found for this product.
Additional Info
No additional information found for this product.