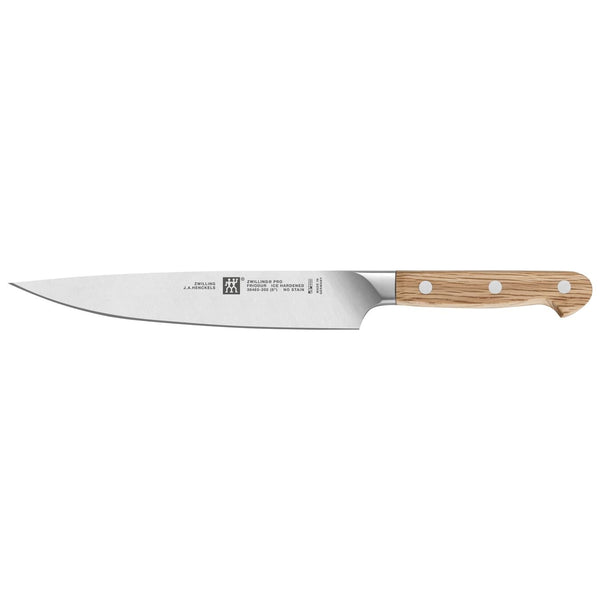 Zwilling Pro Wood 8" Carving Knife - 38460-201
SKU: 119396 |
Please note that when ordering from Newfoundland, items shipped from Nova Scotia may take an extra 7-10 business days to arrive.
Description
Specs
Additional Info
Description
Manufacturer Number: 38460-201
Zwilling Pro Wood 8" Carving Knife
The ZWILLING Pro Blonde series adds a handsome wooden handle to the company's most user-friendly knife, the ZWILLING Pro. Crafted from Mediterranean Holm Oak, this ergonomic, triple-riveted handle boasts strength and stability within its handsome wood grain. The ZWILLING Pro Blonde 8" slicing knife has a long, slender blade for precise, clean slices.
Curved bolster encourages cutting with improved precision, safety and comfort
Holm oak wood handle provides a warm grain and comfortable feel while elegantly complementing contemporary kitchens
SIGMAFORGE knife is forged from a single piece of Special Formula High-Carbon NO STAIN stainless steel
Ice-hardened FRIODUR blade starts sharper, stays sharper longer, and has superior resilience
Precision-honed blade and laser-controlled edge ensures ideal cutting angle for sharpness and durability
Full tang and handle are triple-riveted for superb stability
Dishwasher safe, hand wash recommended
Sold by Unit: Each
Specs
No additional specifications found for this product.
Additional Info
No additional information found for this product.