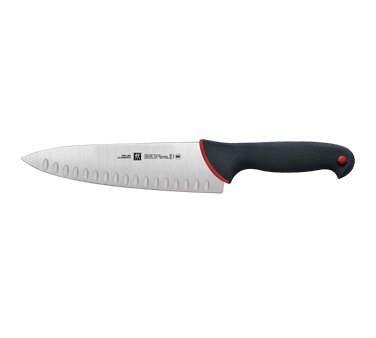 Zwilling Kolor ID 8" Chef's Knife, Granton Edge - 33111-201
SKU: 108618 |
Please note that when ordering from Newfoundland, items shipped from Nova Scotia may take an extra 7-10 business days to arrive.
Description
Specs
Additional Info
Description
Manufacturer Number: 33111-201
The ZWILLING KolorID Chef's Knife is the workhorse of the kitchen for chopping, slicing, or dicing meat and vegetables
The broad, sturdy blade and comfortable, balanced size will quickly become the go-to knife for everyday tasks
The Granton edge helps prevent food from sticking to the blade.
The ingenious 6 colour ID button system easily identifies a knife to prevent cross-contamination during food preparation
Precision-stamped from a single-piece of high carbon NO STAIN steel
Ice-hardened FRIODUR blade starts sharper, stays sharper longer, and has superior resilience
57 Rockwell Hardness
Blade Material: Stainless steel
Blade length: 7.87"
Type of edge: Granton Edge
Ergonomic non-slip synthetic resin handles with enclosed tang
6 colour ID button system prevents cross-contamination during food prep
6 ID buttons included with each knife
HACCP & NSF approved
Dishwasher safe, hand wash recommended
Made in Spain
Sold by Unit: Each
Specs
No additional specifications found for this product.
Additional Info
No additional information found for this product.