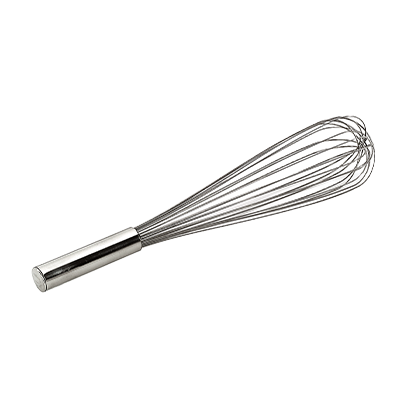 Deluxe Piano Whip 14" - 571214
SKU: 101530 |
Please note that when ordering from Newfoundland, items shipped from Nova Scotia may take an extra 7-10 business days to arrive.
Description
Specs
Additional Info
Description
Manufacturing Code: 571214
The standard Piano whip fulfills a serious cook's requirement for the right fit with each bowl or sauce pan. The perfect weight and size for each mixture.
This 14" whip is very versatile, so you can essentially use it for any recipe. 11 soldered wires for beating eggs, creams, and sauces.
Epoxy filled for superior durability & to help prevent contamination due to accumulation of food particles
Solid handle for better balance & more sanitary, with stiff wires that resist bending
Sold by: Each
Specs
No additional specifications found for this product.
Additional Info
No additional information found for this product.