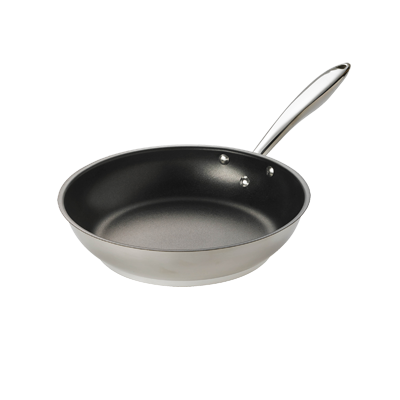 Thermalloy® Stainless Steel Fry Pan 11", Non-Stick - 5724061
SKU: 101608 |
Please note that when ordering from Newfoundland, items shipped from Nova Scotia may take an extra 7-10 business days to arrive.
Description
Specs
Additional Info
Description
Manufacturer Number: 5724061
Award Winning Thermalloy® Professional Cookware has many built in design features to offer outstanding performance, ease of use and added durability
The Thermalloy® non-stick frying pan has a non-stick coating called Excalibur® that prevents product from sticking to the pan while being cooked. The rest of the pan is constructed of stainless steel for durability and corrosion resistance. Heat is evenly distributed thanks to the 1⁄4-inch aluminum sandwich base. The Thermalloy non-stick frying pan has a hollow handle that stays cool to the touch to prevent injury.
Excalibur coating prevents food from sticking to the pan
Operates with gas/electric/ceramic/halogen/induction
Size: 11" diam. x 2"H
Handle: stay cool hollow cast riveted handle
Material: stainless steel with 1/4" aluminum core, natural finish
NSF
Specs
No additional specifications found for this product.
Additional Info
No additional information found for this product.