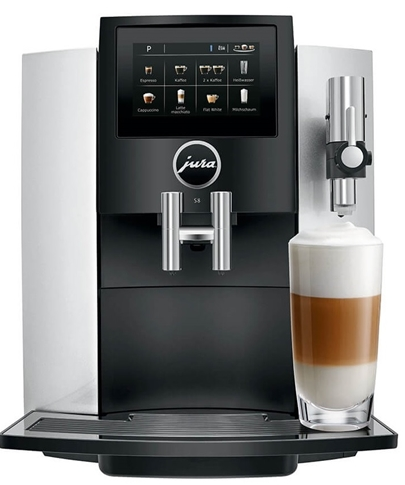 Jura S8 Specialty Coffee Machine, Moonlight Silver - 15210
SKU: 129159 |
Please note that when ordering from Newfoundland, items shipped from Nova Scotia may take an extra 7-10 business days to arrive.
Do you want to learn more? Please email us or call us at 1-800-565-1216 to request pricing Why don't we show the price?
We understand it may cause inconveniences. Some manufacturers and brands have different rules about the way their products and prices are displayed.
Your privacy is our top priority. We'll send you the price and any information you request. We won't share your email with anyone.
Description
Specs
Additional Info
Description
Manufacturer Number: 15210
The stylish S8 creates the full range of specialties from espresso to latte macchiato to a masterful standard of quality. With just a touch on the color touchscreen display, one of 15 different specialties flows into the cup. This is thanks to several outstanding innovations. The AromaG3 grinder is now even more precise and twice as fast, yet preserves all the delicious aroma of the coffee beans. The Pulse Extraction Process (P.E.P.®) ensures the optimum extraction time for short specialties and delivers a taste explosion for espresso and ristretto. Trend specialties finished with milk and milk foam are brought to perfection thanks to fine foam technology.
Color: Moonlight Silver

Specs
No additional specifications found for this product.
Additional Info
No additional information found for this product.