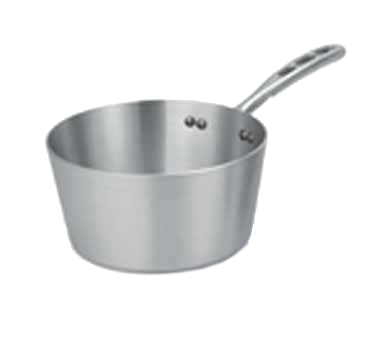 Sauce Pan 3.75 Qt. - 67303
SKU: 125894 |
Please note that when ordering from Newfoundland, items shipped from Nova Scotia may take an extra 7-10 business days to arrive.
Do you want to learn more? Please email us or call us at 1-800-565-1216 to request pricing Why don't we show the price?
We understand it may cause inconveniences. Some manufacturers and brands have different rules about the way their products and prices are displayed.
Your privacy is our top priority. We'll send you the price and any information you request. We won't share your email with anyone.
Description
Specs
Additional Info
Description
Manufacturer Number: 67303
Voted Best in Class for 13 years running, these Wear-Ever sauce pans are built for demanding commercial kitchens. Chefs love them for their uniform cooking properties thanks to the tapered design that allows heat to spread evenly along the base and sides of the pans. Ideal for making rich gravies, sauces and simmering liquid recipes, these durable pans feature the exclusive Cool Handle®, which offers excellent heat insulation and EverTite® rivets that ensure a lifetime of use. This collection includes a range of sizes and finish options.
Ideal for stirring and beating while cooking gravies, sauces and more
Made of 11-gauge impact-resistant energy-efficient 3004 aluminum
Tapered design ensures heat is spread evenly along base and sidewalls
Double-thick bottoms resist denting
TriVent® handle has a unique ergonomic design that reduces stress and fatigue.
The vented handle design reduces heat transfer from pan to handle, maximizing operator comfort
EverTite® Riveting System offers a lifetime warranty against loose rivets
Beadless rims for easy cleaning

Material: Aluminum

Capacity: 3-3/4 Qt
Top Diameter: 8-3/4"
Sold by Unit: Each
Specs
No additional specifications found for this product.
Additional Info
No additional information found for this product.